FortMesa for Service Providers
The engine that drives profitable cybersecurity services
1. Inform
Position the customer for Security Investment
2. Convert
Turn Your Customers Into Security Champions
3. Service
Deliver Advanced Security to Security Customers
4. Evidence
Help Your Customer Evidence Security
FortMesa helps you become a security business
SMBs know they are at risk.
... and are willing to pay more.
"91% of SMBs would consider using or moving to a new IT service provider if they offered the 'right' cybersecurity solution"
"... would be willing to pay 30% more for it."
security services increase value capture
Businesses Expect cyber solutions from their service providers
The need for secure technology has never been higher, and organizations expect their trusted technology advisor to make sure they are safe from the increasing risk of cyber attack.
The market for cybersecurity solutions is growing much faster than the overall IT segment. Service Providers that can Identify, Protect, Detect, Respond & Recover cyber risk are positioned to capitalize on this market need but third party solutions are expensive and costly to implement.
Using your team captures more value than outsourcing or resale
Customers are willing to absorb marginal cost increases to keep themselves safe from cyber attack if the investment makes sense, but outsourcing to dedicated MSSPs and assessment firms results in minimal value capture by an MSP.
Our platform's essential tier clearly explains to the customer where their cyber gaps are and how investment in advanced security services translates to increased protection.
By using your existing team to perform industry standard assessments and comprehensively secure systems you can establish a new category of advanced security service revenue, reduce desktop issue handling cost while protecting this new revenue from low-margin security outsourcing or resale.
Use-cases across the security sales lifecycle
Position the customer for security investment
Become the Trusted Security Advisor
Illustrate cyber posturing, compare to industry compliance targets, and identify residual risk.
Turn your customers into security champions
Capture Customer Security Initiative
Translate moments of security urgency into strategic investments with a clear call-to-action.
Deliver advanced security to your customer
Orchestrate Security Tasking
Deliver the right issue to the right engineer at the right time to meet overall security goals.
Help your customer evidence security
Document & Certify
Generate audit prep, compliance posturing, and security certificates for your customer.
How security service automation Works
convert security insights into sales and engineering workflows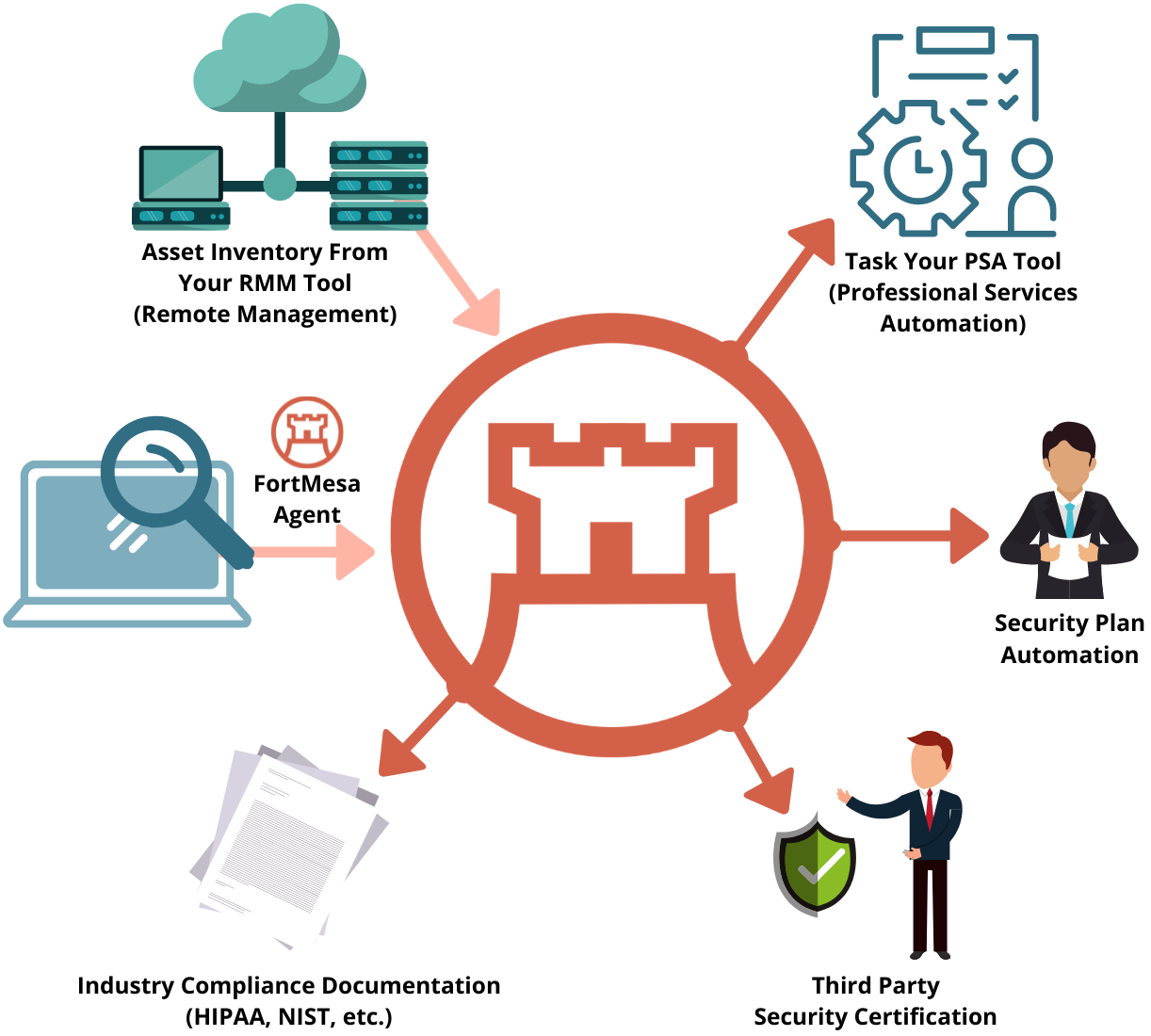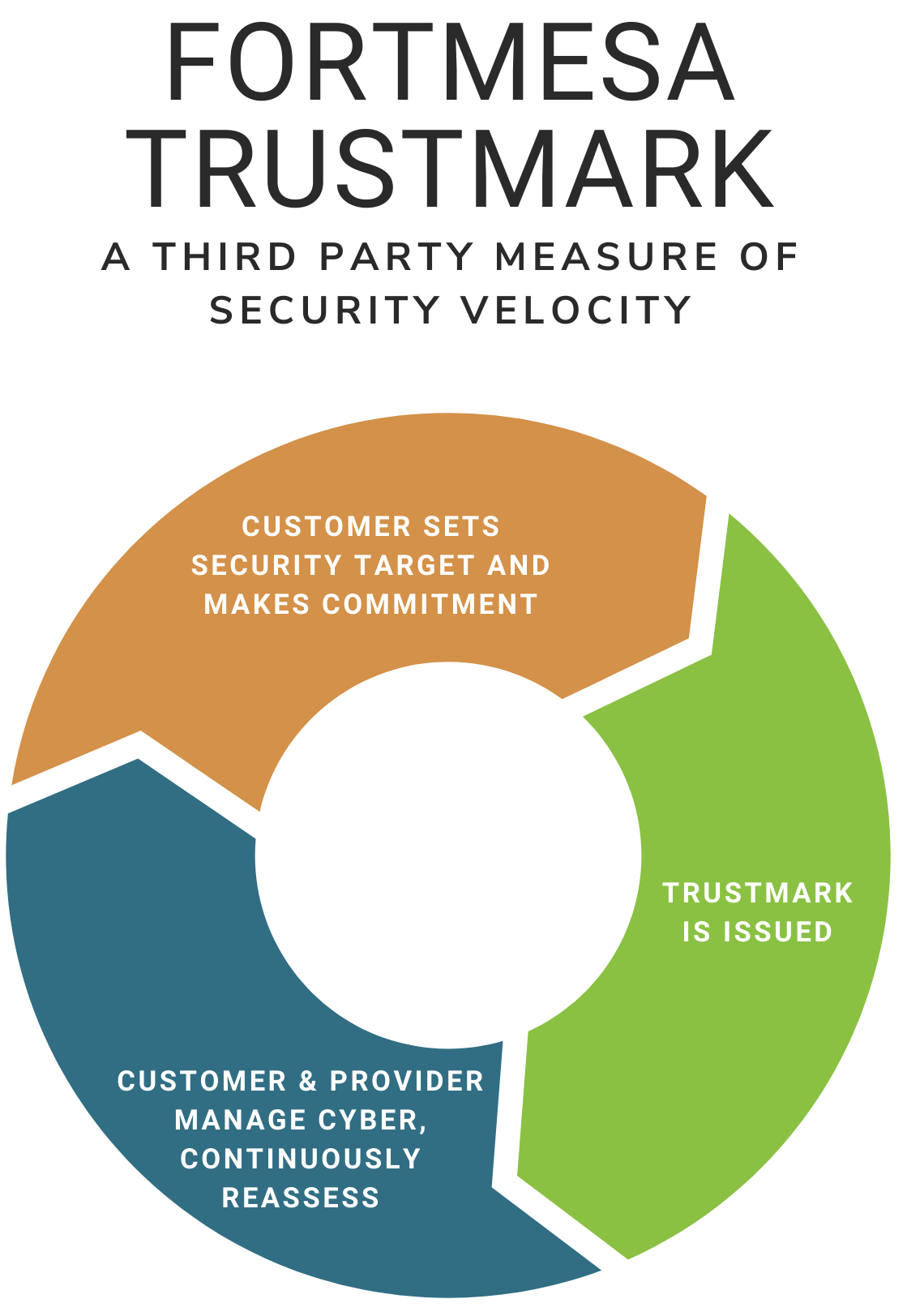 Evidencing Security Value
Rapid Security Certification
A third party attestation or certification is frequently a target deliverable in customer security investment. The FortMesa Trustmark Certification attests to your customer's commitment to the security.
Customer Security Commitment
Security is a process, and the Trustmark reflects this in it's nature. A Trustmark quickly issued to organizations that have evidenced dedication to security.
Trustmark Adoption Overview
5-minute Security Charter Policy Adoption
A single goal-setting conference
Provider confirmation of "advanced security" service delivery
Trustmark Renewal
Trustmarks are issued for 30 days and are automatically renewed as long as security work continues.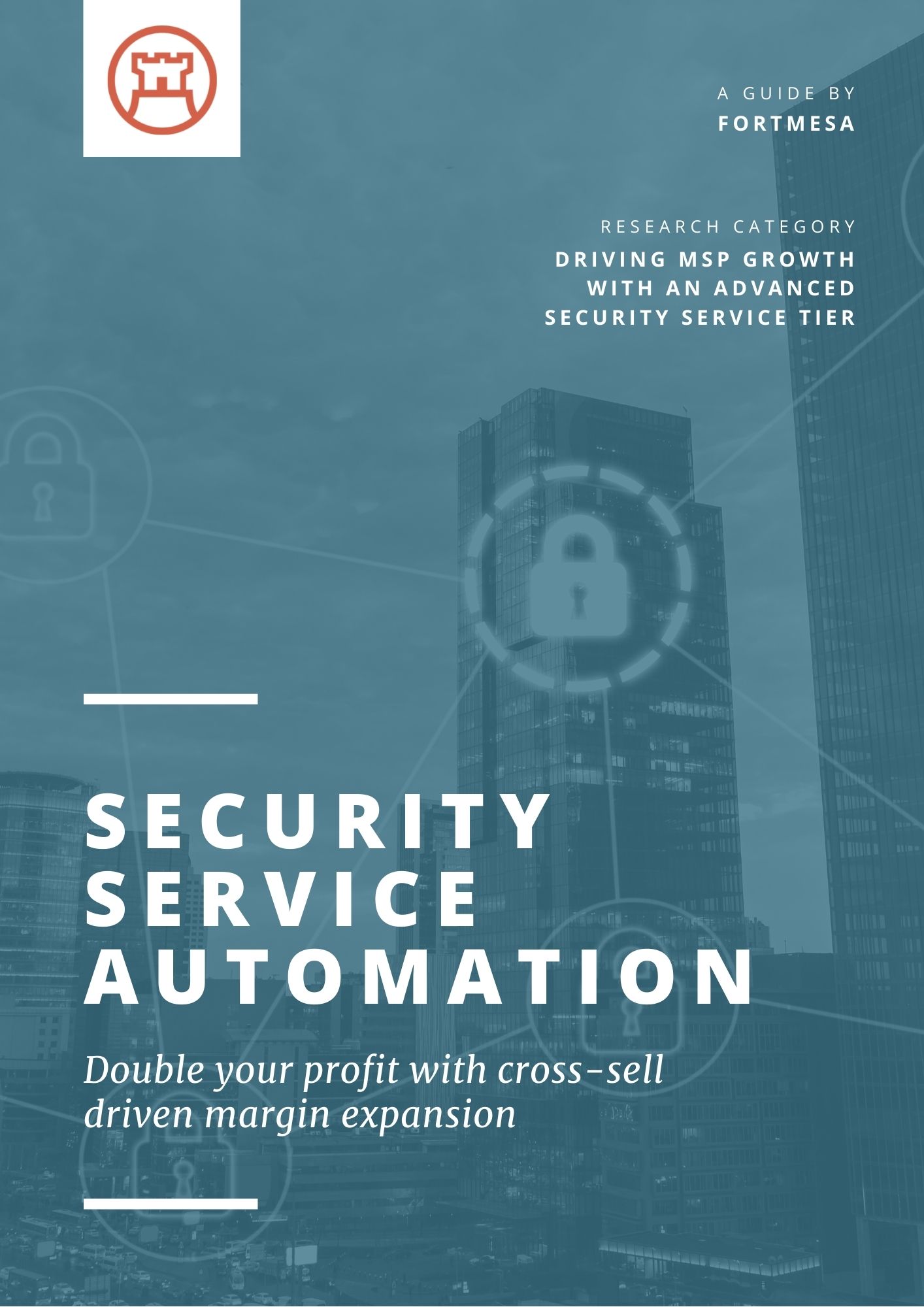 2x profit from your existing customers
Download our guide which explains the economics of security services and how you can double customer profit with a marginal add-on service tier.
Revenue aligned pricing for every end-customer
Value Aligned with your security revenue
Our pricing is aligned to enable low cost on-boarding and grows as you deliver new security services.
Gain security credibility for the work you already do, and navigate security planning
Less than $1/mo. per enterprise seat*
* Assumes 50 seat average customer size
A simplified dashboard for customer security engagement
Draw security insights and inform your customer
Provide an investment roadmap for security improvements
Stimulate security investment with by assigning risk to individual stakeholders
Continuous Risk Assessment & Management
Assess and reassess cyber risk at every customer touchpoint as their asset/threat environment, and security urgency change over time.
Asset Inventory
Link the data you already have on your customer environment with security owners and at-risk business processes.
Stakeholder Accountability
Gain horizontal security credibility and budget champions across the customer organization as you assign cyber risks to appropriate stakeholders who will advocate for security investment.
Vulnerability Management**
Work together with your customer to surface, remediate and manage vulnerabilities found across their environment.
Governance Builder
Gain security credibility at the highest levels of your customer with policy workflows that demand an signed executive mandate.
Control Framework
Find a standard security benchmark that fits your customer and show them what they may be missing.
Help customers meet security commitments and evidence industry cyber compliance
$5/mo. per enterprise seat*
* Assumes 50 seat average customer size
Real-time tasking capabilities and Evidence aligned with advanced security services
Generate security tasks from real-time findings and a calendar of security deployments
Distribute security tasks via your PSA or other ticketing system
Certify, document and evidence your customer's security state
Compliance Mapping
Guide your customer in complying with NIST, ISO, PCI-DSS, HIPAA and other regulatory and industry standards.
Security Documentation
A variety of automated executive summary and itemized security status reports that speed audit prep and evidence customer security value creation.
Trustmark Certification
Reassure your customer and their stakeholders with a certification that illustrates your contributions to their security program.
RMM & PSA Integrations
Collect security data from your RMM, derive insights, and assign security tasks directly to your engineers via your PSA.
Security Operations Center
Monitor security and compliance states across all your customer environments, respond to customer security requests, and orchestrate overall security tasking that's integrated with your business systems.