The FortMesa Trustmark
Communicate Trust in a Moment
"Public commitment is used to make the public aware of who has committed to a specific practice. Public commitments are longer lasting and more effective then private commitments."
– McKenzie-Mohr & Schultz, 2014
Get Trustmark Certified
Third party attestation of compliance with the FortMesa Trustmark guidelines in 30 days or less. Sanitized certificates and web embeddable security badge on tap.
Trustmark
Communicate trust to customers and other stakeholders with an embeddable badge and third-party attestation.
Trusted Partners
Access pre-vetted technologies, products and services from our platform partners to further secure your systems.
The Trustmark Program
We award organizations who have demonstrated a dedication to the process of security with the FortMesa Trustmark Badge and Certificate of Attestation.
These endorsements certify that the named organization has committed itself to our program and is actively engaged with our platform. Organizations who fail to adequately participate do not qualify to retain the FortMesa Trustmark.
The Red Rock Shop
Our Rocks are Really Red
Look for the Seal
Because we certify platform participants who demonstrate a continued focus and attention on the process of security we are able to offer participants an HTML embed that signifies their commitment. This may be displayed on the web or inside applications.
Certificate of Attestation
A third-party endorsed Certificate of Attestation can help assure others of your commitment. These documents often satisfy due diligence requests from partner organizations.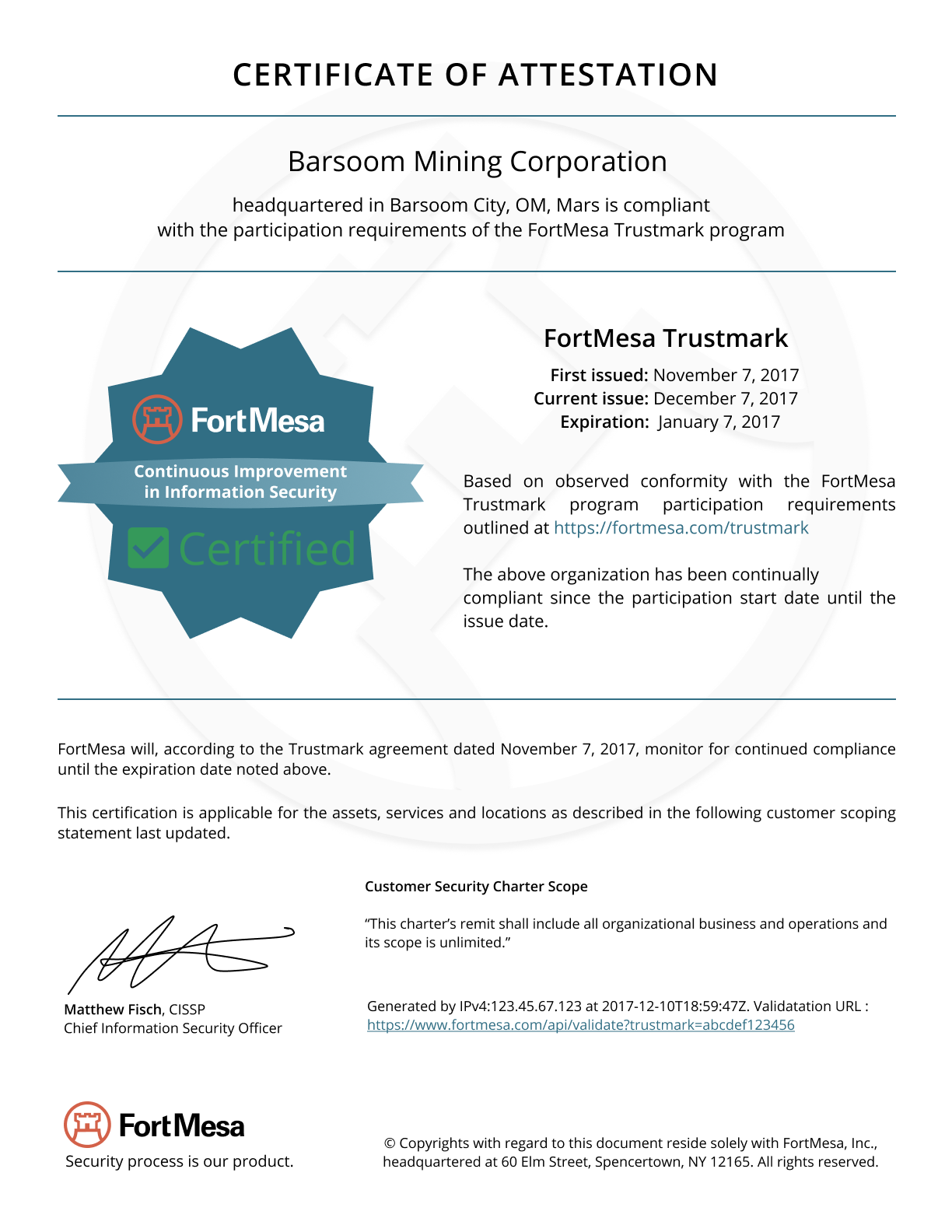 Trustmark Program
Participation Guidelines
Program Requirements
Badge may only be displayed using our real-time embedded validation API.
Trustmark may be revoked at any time and at our sole discretion.
Agreement to comply with on-demand spot audits by FortMesa analysts.
Active engagement with the FortMesa platform within the last 30 days.
A current and valid security program charter is endorsed and on file.
Other Program Notes
Organizations participating in the FortMesa platform are provided with a guided roadmap of industry best practices intended to manage most cyber security risk.
Participants engage in a combination of self and assisted audit and FortMesa retains no liability for losses, errors, omissions or unmanaged risks in the participants' security program. Trustmark program is not intended to be interpreted as an endorsement regarding the veracity of self assessed security posturing nor does FortMesa validate organizational authorization.